Joe Louis bids at a tuna auction
Looking to eat the freshest sushi of your life? Head over to the Tsujiki fish market in Tokyo, but make sure to set your alarm first.
Early to rise
In order to be a spectator for the morning tuna auction you must be one of the first 120 people to arrive. Tourists are split into two groups of 60 walk to the fish warehouse at about 5:30 AM. You should get to the market area no later than 4:30. That's right! Buy a coffee at a nearby vending machines and shake those cobwebs from your head. Also take note that the subway is running at that time so you will likely need to ride a cab. All the more reason to go with a group.
Going once, twice
The tuna auctions only last about 20 minutes total. Takes some photos and videos, but also try to pay attention to what is going on. Each prospective consumer tests the fishy candidates by poking, prodding, and even hacking pieces with a little ax to get a sense of the quality.
So fresh and so clean
Now that you've seen how tuna is bought and sold, it's time to play your role in the supply chain. Time to be a consumer. Find a nearby restaurant for some early morning sushi breakfast. Many places nearby will cater to tourists leaving the fish market. I had a tuna sampler at one with different types of tuna pieces. Pay extra for the extra fatty piece. It is the kobe beef of tuna.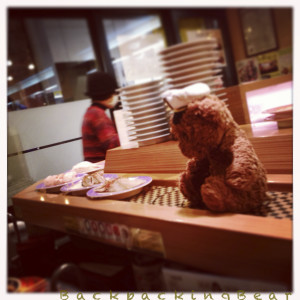 ---
See what other blogs are saying about the Tsukiji fish market:
"Some of the vendors, you can just tell, specialize in nothing but the highest quality of tuna – It's really a beautiful thing."
–Migrationology